Administrative Associate II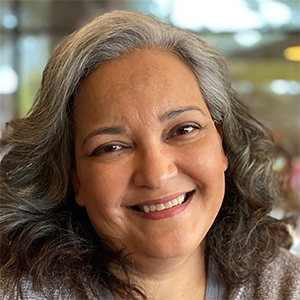 Email: debra.nelson@utsa.edu
Phone: (210) 458-4106
I'm usually the first point of contact when students communicate with Honors College. I manage the phones and also the honors@utsa.edu email inbox by answering questions that current and prospective students may have. I am the administrative HUB for Honors College, so I assist many areas under the Honors umbrella. I also assist our students by booking counseling appointments with our Honors College counseling team. My other duties also include updating our weekly Monday Message newsletter to students, processing Honors contracts, reviewing Honors Scholarships, event planning and also updating our internal systems to make sure that students are coded properly within our system.
I was born in Chicago, but shortly after birth my family moved to San Antonio so I grew up here and am basically a Texan. After graduating from high school, I spent a few years in San Antonio attending college, eventually graduated, then met my future husband. We travelled the world as he was in the Marine Corps and also an officer in the Navy. I have two children ages 21 and 17 years old, plus 2 rescue dogs as well. We moved close to ten times in a 17 year period to such places as Guam, Japan, North Carolina, Hawaii, Florida, California and WA State (twice!). We have been back in San Antonio now for 4 years, and have been with UTSA Honors College for over 2 years. I am so very thankful for all the amazing people I've met throughout the years, and the different cultures I was able to experience during our time across the world.
Intellectual Achievement
I am fascinated about learning about topics on leadership, and have enrolled in the Masters of Education in Higher Education Administration program here at UTSA. I'm very excited about this new opportunity to learn more about what inspires me, and to bring this knowledge base into my job where I can affect student success.
Engaged Living
While I was living in Hawaii, our family set out to complete a 100-mile walking challenge in 30 days, right before we were to fly back to the continental US. I was the first one to finish this goal, and really pushed myself out of my comfort zone during my time on island. Some examples included hiking muddy areas to get to amazing waterfalls where people could jump from rocks above into the water below, hiking Diamond Head to see Honolulu way below us, and also mountainous regions on Guam too.
First and foremost, I love working with students! I find it so invigorating listening to students and their amazing accomplishments that they felt they couldn't do, but then actually did it! I feel so humbled to be able to have a small part in their education at UTSA. I strive to be able to assist them to the best of my abilities and make their day a bit better than before. Next, I love our Honors team and how we collaborate seamlessly for the benefit of our students. Know that our Honors team is ready and willing to go to bat for you!