Peer Coach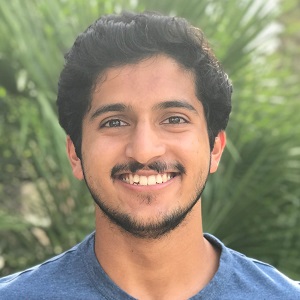 Available Mondays and Wednesdays from 10-11: https://utsa.zoom.us/my/georgetharakan
You can also reach me at george.tharakan@utsa.edu to set an appointment (make sure the Subject Line is "First Name Last Name, PC Appointment Request")!
As a Peer Coach for the Honors college I advise students on the Honors curriculum, I facilitate conversations regarding goals, and most of all I serve as a friendly face to both new and returning students in the college. My goal is to help students feel comfortable as students in the Honors Program and help them to achieve their goals.
I am a junior cybersecurity major and computer science minor at UTSA. I'm originally from California, but I moved here when I was young so I consider San Antonio my hometown. I'm part of a couple organizations at UTSA including the Catholic Student Association, UTSA club ultimate team, and I'm a brother of Delta Sigma Pi. In my free time I enjoy playing sports, reading books, and folding origami.
One of the SPICES areas I completed was in Leadership. I served as an Orientation Leader and enjoyed getting to know many incoming Roadrunners!
I enjoy getting to know people from all walks of life and building relationships with other students.