UTSA Distinguished Teaching Professor
Associate Dean of the Honors College
Professor of Anthropology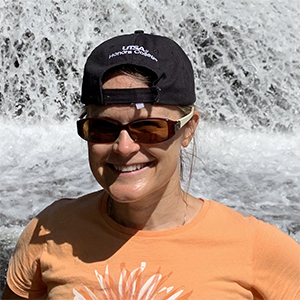 Email: jill.fleuriet@utsa.edu
Languages: English,  Español
Associate Dean, Honors College: responsible for the academic side of the house; work with the awesome Academic Team and Honors faculty.
Associate Dean for Faculty Success, College of Liberal and Fine Arts: responsible for policies and procedures related to faculty hiring, retention, promotion, and awards
Professor, Anthropology: teach and do research in cultural and medical anthropology, the U.S.-Mexico borderlands, and topics of health care, inequality, gender, and creativity
I'm from the Valley (Harlingen). After graduating from Harlingen High School, I attended Harvard College, where I graduated with a BA in Anthropology and middle school and high school teaching credentials. Along the way, I studied abroad in Glasgow Scotland, interned as a zookeeper (I cleaned a lot of animal enclosures!) and as an aquarium educator (cutest penguin couple at the New England Aquarium), tutored in a local school district, and worked as a maid, waitress and bartender. After Boston, I moved to San Diego, where I taught middle school and earned my first Master's degree in Anthropology at San Diego State University. I caught the research bug, working on my mentor's research project in education, teaching stats software to college students, and doing my first solo project on prenatal care in the Valley. After San Diego, I attended Stanford University, where I earned another MA and my Ph.D. in Anthropology. I did my PhD fieldwork in rural indigenous communities in northern Baja California to understand how their health and health experiences were impacted by histories of colonialism and the current Mexican health care system. I didn't think I was going into higher ed, though. I was convinced I was going to work in applied anthropology for a non-profit, doing what I did in my doctoral research as a way to systematically change health care. But, I didn't know that would also mean loads of business management, and I missed teaching. I tried out teaching in medical school in North Carolina, but then I missed Anthropology and south Texas. I realized I wanted to be back close to home, at a public university — close to my family, close to borderland communities. I landed at UTSA and haven't looked back.
Cultural Exploration
That's kind of no-brainer, since I'm a cultural anthropologist. But, truly, people   fascinate  me. How we move through the world, how we think about ourselves and others, how those ideas get bound up in our kinship/justice/medical/etc. systems — that is the stuff of Anthropology. "Culture," to me, means a shared way of making meaning about the world that is constantly changing. How could that not be fascinating?!? Even more importantly, Anthropology is a tool by which to make change in the world, to promote equity.
Research
I am interested in how our meanings about people, places and things impact our health and wellbeing. I am also interested in how our ideas of place shape our interactions with people. In both of these, I want to use anthropology to help promote equity. In 2021,  I published a book on my latest Valley research project,  Rhetoric and Reality in the U.S.-Mexico Borderlands: Place, Politics, Home . It's about the stories we tell as a nation about our southern border and why we tell them — and I offer a different story that is rooted in the lives of borderlanders, a story that can be a national model of partnership. My current research project is about how caregivers who are in graduate school or are professors navigate the world of higher education. My "care project" is a collaboration with an independent anthropologist and scholars from SUNY Oneonta and the University of Denver.
Favorite thing about working in the Honors College: the students. Without a doubt.