Assistant Dean for Special Programs
Director for UTSA Top Scholar Program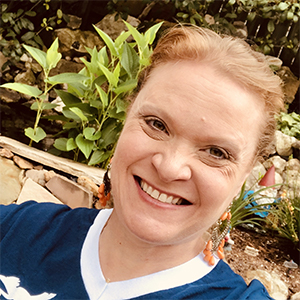 Email: kristi.meyer@utsa.edu, top.scholar@utsa.edu
Zoom Office Hours: MWF 8:00 – 9:00 a.m. or by appointment
https://utsa.edu/topscholar
I direct the UTSA Top Scholar program, supervise the Terry Scholars program, and serve on the Honors College leadership team. My goal is to help students reach their fullest potential academically and personally by connecting them with experiences outside the classroom and helping them stretch their comfort zones. This can take a lot of different formats, but generally involves advising and mentoring as well as program development. I also manage the day-to-day compliance and operations for the Top Scholar program. In Fall 2020, I am excited to teach Tutorial I: Justice.
I grew up in a small town in East Texas. We were a multi-generational household of all women (grandma, mom, and 3 sisters), never enough counter space in the bathroom, and a host of 4-legged furry family members. I went to college at Stephen F. Austin State University, where I majored in Political Science. After a brief stint in the U.S. Army which landed me in San Antonio, I entered graduate school at UTSA, where I earned an M.A. in Political Science. In spring, 2020, I celebrated 19 years at UTSA. My roles at UTSA have included program development, teaching, advising, admissions, and retention and graduation analysis. In my free time, I enjoy hanging out with my heart-throb hubby Walter and always amusing niece Amber, along with waogging (walk-jogging), listening to live music, and cozying up with a good book.
Cultural Exploration
I love learning about other cultures and meeting new people. I take every opportunity to explore new places and food, whether that be in my own backyard or across the globe. The more unconventional and off the beaten path, the better. Hole in the wall restaurants, mom-n-pop B&Bs, and historical places with local tour guides are my absolute favorite way to spend time away from the office. All along the way, my goal is to appreciate and understand our differences (and similarities) as humans living on earth.
Professional Development
Sharpening my professional skills is a continuous process. I'm especially interested in leadership development, leading through strengths, and growing successful teams. Tools like LinkedIn Learning, EdX, Coursera, and our local libraries are great sources that make my professional development journey never ending. My latest reads include Thanks for the Feedback and Excellent Online Teaching.
Research
My research is not the same as a traditional faculty member, but I enjoy policy studies, legislation analysis, college completion, and student development. I have published more than 15 articles and presented at numerous national and state conferences in Political Science, Academic Advising, and Student Development.
I love helping students explore new ways to meet and exceed their personal and professional goals using their strengths in creative ways. Whether it be traveling to a new country, landing an internship they never knew existed, or pursing a prestigious award, the opportunities for Honors students are limitless.