Assistant Dean of Enrollment Management and Student Life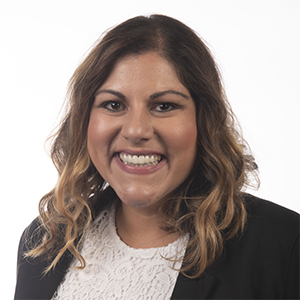 Email: lydia.bueno@utsa.edu
I work to admit new freshmen and transfer and current UTSA students eligible to join the Honors College. I also coordinate and host various events for currently enrolled Honors College students. Because of my job duties, I have the privilege of collaborating with various departments across campus and have a very wide and diverse network. I often connect students with colleagues that will help them achieve their academic and professional goals.
I completed both my Bachelor of Arts degree in Communication, Advertising, and Public Relations and my Master of Education degree in Student Development and Leadership in Higher Education at Angelo State University in San Angelo, Texas. When I began my undergraduate degree, my dream was to become a public relations specialist in professional sports. When I began my Master of Arts in Communication, I learned about working in higher education. After my first semester, I switch my area of study from communication to education.
I have been with UTSA since June 2012 working in various departments including serving as: the Assistant Dean of Students and Director of the Student Center for Community Engagement and Inclusion including Volunteer Services and the Dreamers Resource Center, Interim Associate Dean of Students and Director of the Student Leadership Center and Student Center for Community Engagement and Inclusion, Associate Director of Student Activities for Student Organizations and Programming at UTSA, and Assistant Director of Undergraduate Admissions for Communications and Special Projects.
Prior to joining UTSA, I worked as a Non-Traditional Admissions Counselor/Advisor for Concordia University Texas San Antonio Center, Senior Admission Counselor at Schreiner University, Special Projects and Events Coordinator for the Angelo State University Alumni Association, and Graduate Assistant for the Angelo State University Center for Academic Advising.
Lydia is married to Nathan "Nate" Bueno who is an elementary school special education teacher in Northside ISD. They have one dog named Ranger.
Service
Because of my many years working in higher education, I often informally provide advise and assistance to family and friends and sometimes even strangers on higher education admissions processes and financial aid opportunities. I have also volunteered to serve on various professional committees including serving as the UTSA representative for Social Belonging for the UT System Pillars of Student Success system wide committee.
Intellectual Achievement
Clearly, I have passion for working in higher education. My interests include social and cultural influences on learning and academic and social belonging. Because of these interests, I often share my knowledge with others who are working to improve events and teaching around culture and policies and procedures that promote belonging.
Research
I would like to eventually continue my education and earn a doctorate in a degree that would allow me to teach higher education administration. I feel too many education programs focus on K-12 educators and not higher education. My research will focus on social and cultural influences on learning.
I really love seeing our students develop their own identity throughout their time at UTSA. I also very much enjoy working with various campus colleagues to serve the Honors College community. I am given so many opportunities to collaborate with a number of different departments to learn about their services and then connect them to our students.