Recruitment & Retention Program Manager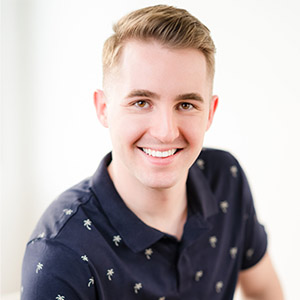 Email: nicholas.degraw@utsa.edu
I have the opportunity to coordinate our many exciting Honors College events and programs, especially those within our Residential Community in Guadalupe Hall. I help facilitate and create a sense of community among our wonderful Honors Student population. 
I earned my Bachelor of Science in Sociology from the University of Utah in Salt Lake City, UT, which is my hometown. My undergraduate experience provided me incredible leadership and involvement opportunities which ignited my passion for Higher Education. I earned my Master of Science in Education from Northern Illinois University. I joined UTSA in 2017 as a Complex Coordinator for Housing and Residence Life and later served as an Academic Advisor for Business students for several years before joining the Honors College.
Nick is married to Scott Glavac, another member of the Roadrunner family working with Strategic Enrollment as a Digital Marketing Manager. They have two sweet dogs – Bailey and Mila.
Cultural Exploration
We all come from different backgrounds and perspectives and have a variety of different identities that make us who we are and contribute to our own individual journeys. I find that college can be a transformative time for students to explore their own identities and learn from others' experiences. This was certainly the case for my undergraduate experience and a primary reason I decided to work in Higher Education. I focused a large part of my Graduate research on how we can support students of diverse gender identities and sexual orientations. I strive to incorporate and encourage inclusivity within my programming to ensure all our students know they belong here at UTSA.
Engaged Living
I believe it is important that professionals balance their work-life with an enriching personal life. I grew up as a performer, and to this day, I am still a huge supporter of the arts. I am involved in the San Antonio Theatre community both on and off stage. There is a rich and beautiful culture here in San Antonio, and I love being able to call it home. I continue to enjoy exploring our beautiful city!

My favorite part about working in the Honors College is the many different ways we get to engage with our incredible students. From social events to professional development opportunities, there is something for everyone in the Honors College! I enjoy meeting our diverse students from a variety of majors, and being able to contribute to their educational experience.