Professor of Demography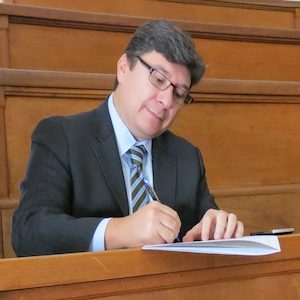 Email:  rene.zenteno@utsa.edu
Phone:  (210) 458-3140
Languages: English, Spanish
My research falls into the areas of social and demographic change, international migration, and social inequality, focusing on Mexico, U.S.-Mexican migration, and Mexican immigrant incorporation. My work is policy- and solution-oriented, highly interdisciplinary, and has been published in top peer-reviewed journals.
During my academic career, I have designed and taught a variety of undergraduate and graduate courses in immigration and labor force, development and public policy in Latin America, statistics, demographic theory and methods, and research methodology. Drawing on my research interests and involvement in the local community, I have provided students with knowledge and first-hand experience of globalization, migration, trade, development, poverty, and inequality. For example, in one of my UTSA Honors College courses on Global Commerce and Human Mobility, students understand and experience how globalization and neoliberalism impact cross-border mobility between Texas and Mexico. The course offers an introduction to these subjects and a meaningful interaction with guest speakers and institutions in San Antonio highly involved in the U.S.-Mexico connection. An additional study abroad program in Mexico provides the opportunity to interact with policymakers and other stakeholders on the other side of the border. The effort to connect this course with the local community has also provided opportunities for students to foster relationships with Non-Profit Organizations like Catholic Charities San Antonio.
I was Vice Provost for International Initiatives at UTSA and concurrently the Executive Director of ConTex, a joint initiative of the University of Texas System and Mexico's National Council of Science and Technology (CONACYT). I served as Under Secretary in the Ministry of the Interior in Mexico. In this role, I oversaw all policies, programs, and activities related to population, migration, and religious affairs. Other academic positions include Executive Director for the Center for U.S.-Mexican Studies (USMEX) at the University of California, San Diego, and Provost at El Colegio de la Frontera Norte. I have received several professional honors, including President of the Mexican Society of Demography (SOMEDE) and membership in the National Academy of Science of Mexico.
I was born and raised in México. I have lived in five cities in Mexico (Mazatlán, México City, Monterrey, Guadalajara, and Tijuana) and four in the United States (Austin, San Diego, Philadelphia, and San Antonio). I received my Ph.D. from UT Austin, where I also met and married my wife, Elseke. In 2013, after many years living and working in two different countries, my family and I decided to move to San Antonio when UTSA offered me a professorship position. We have three incredible children, Mariana, Alfonso, and Dalex, and two amazing dogs, Lola and Charlie.