Giving Back to the Global Community
January 15, 2020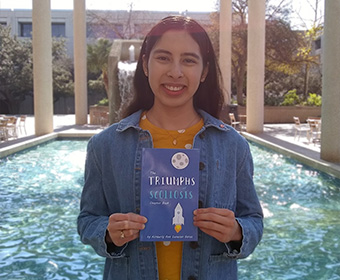 Encountering challenges is not always favorable, but perseverance and faith allowed me to overcome my biggest challenge. At the age of eleven, I was diagnosed with idiopathic scoliosis. Hearing 'scoliosis' for the first time, I did not understand what this meant for my future. After seeing an x-ray of my spine; however, I quickly realized my spine needed to be straighter, rather than a backward 'S'.
For six years, I wore a plastic back brace, completed physical therapy and continuously performed back exercises to help straighten my spine. Although it is simple to describe my treatment, it was not easy to complete it. Entering middle school with a plastic object under my shirt, I felt embarrassed and afraid of being judged if my back brace was discovered. In addition, sitting in class was uncomfortable and it became difficult to focus on the lecture. The brace put pressure on my ribs and hips and over time, these sore spots became deep cuts in my skin.
Despite the physical and mental pain I experienced during my treatment for scoliosis, I knew I had to strengthen my body, mind and spirit. I turned my attention to doing well in all my classes and continually expanding my knowledge through extracurricular activities. This effort proved to be fruitful throughout my treatment, and I have continued to work hard to this day. At UTSA, I have been an active member of Pre-Medical Society and the Honors College. I also engaged in basic science and public health research on campus, through an internship and with the Honors College. Furthermore, I currently serve in leadership positions with the Terry Scholars Student Organization and UTSA Ambassadors programs on campus. Most importantly, I have given back to my community through volunteer work. In San Antonio, I serve as chapter leader for Curvy Girls Scoliosis Support Group, where I advocate for scoliosis awareness and listen to the stories of others who have scoliosis. As a future physician, I also aim to practice early detection of scoliosis and look forward to advocating for patients with scoliosis.
Now that my treatment for scoliosis is complete, I want to use my experiences to educate others about scoliosis and encourage anyone to always believe and work hard, and any challenge can be overcome. Recently, I have self-published a fiction book based on my scoliosis story, which I hope inspires others to work hard toward their goals. My book, titled The Triumphs of Scoliosis, is available for purchase through the Blurb Bookstore. I am thankful for the support I have received throughout my experiences with scoliosis and through every day. Overall, the message I would like to share with others is to never give up, no matter what obstacle is in the way, and your dreams will be achieved.