UTSA Honors College Graduate Ana-Sofia Gonzalez Wins Fulbright Grant to Spend 2020-2021 Year in Colombia
April 7, 2020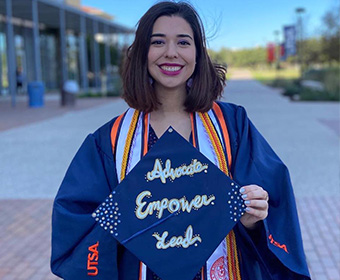 The UTSA Honors College celebrates recent graduate Ana-Sofia Gonzalez (2019), who has been named an English Teaching Assistant in the Fulbright Student Program. The prestigious program will fund her travel to Colombia during the 2020-2021 academic year, where she will teach English to Colombian university students. A Global Affairs and Political Science double major and Spanish minor, Gonzalez was the first of UTSA's five semifinalists to receive a notification about winning the award. Other finalists are vying for awards in Taiwan, Malaysia, and the United Kingdom.
Born in Mexico City, Gonzalez grew up in Dallas and describes herself as a proud immigrant to the United States. Raised in a bilingual household, where English was spoken in school and Spanish was spoken at home, Gonzalez learned about language and difference from an early age. She witnessed how students like herself were stereotyped based on their ethnicity and socioeconomic status, rather than their character or their work in the classroom: "Growing up, I often encountered classrooms decorated with posters that read, 'Knowledge is power.' At first, I didn't think much of them, but eventually I realized this concept would be significant in my life. Less education means less general awareness and therefore less capability to create change. Toward the end of high school, I decided that I would no longer stand by idly in a rapidly polarizing society."
At UTSA, Gonzalez became a leader through various student initiates. She founded the Women in Leadership group (WIL) in 2017, which is a feminist organization that seeks to empower women in their everyday lives, as opposed to being strictly politically driven. Before graduation, Gonzalez also served as Chief of Staff for Sustainable Youth Action (SYA), which was founded by fellow UTSA Honors student senior Jay'Len Boone. SYA envisions a world in which young people are both civically engaged and empowered to use their creativity for social good.
Studying Global Affairs and Spanish, Gonzalez has learned about how leadership and cross-cultural understanding can be applied on an international level. She has put her classroom curriculum into practice internationally, first studying abroad in Madrid, Spain and then serving as a volunteer in Mexico City with the International Association of Students in Economic and Commercial Sciences (AIESEC). There, she served as an English tutor for adults working at a marketing startup business. Her time spent abroad not only prepared her to apply for Fulbright, but instilled in her how to listen and understand others:
"Spending time alone in a foreign country is not always easy, but the benefits are numerous and wonderful. I was immersed in a unique culture and learned about the lives of students my age who grew up in completely different circumstances from my own. I learned humility, empathy, and a willingness to ask for help and explore at a new level. I witnessed the commonalities that unite all of us. I learned to listen with the goal to understand even when I experienced confusion or disagreement. This enabled me to embrace new places and new faces."
After studying abroad, Gonzalez applied to and was accepted to another special program offered by UTSA, the Archer Fellowship Program. Spending a semester in Washington D.C. as an Archer Fellow, Gonzalez interned at Refugees International. In her Fulbright application, she mentioned that her work with refugees is one of the reasons that she picked Colombia for her Fulbright grant. She noted how Colombia has been generous in its intake of Venezuelan refugees, which is one reason that she is ecstatic not only for the opportunity to teach English there, but that she also hopes to design a civic engagement project to work with the Venezuelan refugee community.
Gonzalez hopes that traveling to Colombia as a Fulbright English Teaching Assistant will serve as a stepping-stone to a career in diplomacy or the nonprofit sector. Living in Colombia for the next year will provide Gonzalez the opportunity to have spent considerable time studying and working in three-Spanish speaking countries across Central America, Europe, and now South America. "As a Latina myself, I am eager to grow and learn in a Latin American country that is new to me. The Fulbright Fellowship will allow me to pursue my personal and professional passions on an international scale."
The Fulbright program is administered by the U.S. Department of State and is the flagship program for international educational exchange. Students are awarded grants to conduct research, study in graduate programs, and teach English abroad. While UTSA has had only 13 students participate on the program, the university has seen a rise in awardees in the past ten years, earning four awards in 2011. The mission of the program seeks to increase mutual understanding between countries all over the world, and seeks to send abroad American students from a diversity of backgrounds. This ensures that the rest of the world learns that "what it means to be an American," does not have a single answer, nor does a single type of person represent the country.
The Fulbright student program encourages applicants to apply through their home institution's endorsement. Undergraduate students in their junior and senior years, graduate and professional students, as well as alumni, should apply through the Office of Nationally Competitive Awards, which is housed in the UTSA Honors College. Students typically start applications in April through early summer in consultation with the Fulbright Program Advisor, Andrew Chapman. Students receive advice on crafting a competitive application, as they write personal statements, grant proposals, and participate in a campus interview. This year, UTSA's Fulbright committee was composed of faculty and staff throughout the university. Taking part was Dr. Bridget Drinka (English), Alegra Lozano (Honors College), and Dr. Melissa Wallace (Modern Languages and Literatures).
As she prepares for the Fulbright program, Gonzalez is reflecting on her experience at UTSA, thankful for how it embraced her:
"I want to recognize the UTSA Global Affairs and Political Science Department as well as the UTSA Honors College. My professors and their course curriculum, particularly during my final semester at UTSA last fall, inspired me and made my hunger for learning grow exponentially. I want to acknowledge former UTSA professors Dr. Ann Einsenberg and Dr. Arturo Sotomayor for believing in me whole heartedly and offering me resources which led me to professional opportunities that have changed my life.

As a Global Affairs/Political Science major and through my involvement in Orientation and Family Programs, Housing and Residence Life, and Student Activities, I have had the privilege of meeting so many incredibly unique people that make UTSA what it is. My peers and mentors have supported me, challenged me, and overall have fueled my growth and development as an individual. UTSA has heart because it is made up of people who are passionate, motivated, and resilient like I have never seen before. Additionally, I want to recognize the critical work of Counseling Services, the Roadrunner food pantry, and Career Services, a few of the UTSA departments that proved to be lifelines for me as an undergraduate student. Thank you for giving me the tools to become the person I want to be, accepting me as I am now, and for giving me a place to call home for four years."