Meal Prep: Honors College Style
November 3, 2020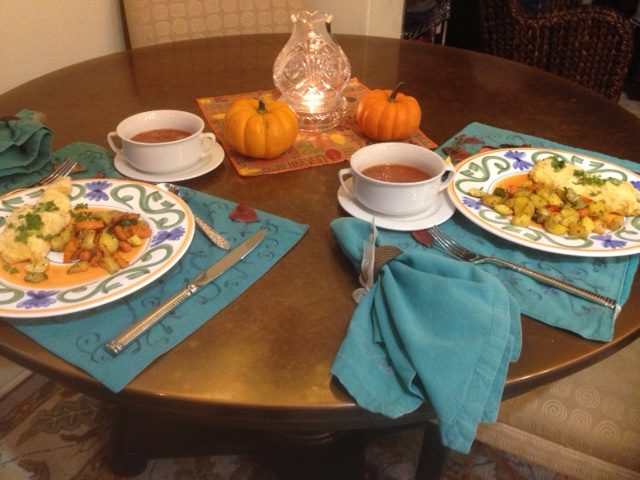 The next time you are sitting around on a Sunday afternoon, trying to come up with meal prep ideas for the week, consider tuning into The Paisano Online's YouTube channel or visiting The Paisano's website.
There you will find the series Cooking in the Time of Covid: recipes and cooking demonstration videos produced by the students in Diane Abdo's Honors College and Writing Program's course Cook. Eat. Write. Repeat. The demonstrations are on a wide variety of dishes including Chicken Fried Rice, Gumbo, Korean egg rolls, Polish soup, and even Empanadillas de Pizza. Many of the recipes are the students' own family recipes, passed down through generations and frequently featured in their own family dinners. The recipes are as diverse as the students themselves.
For the students, like Wisdom Warner, the course also offers a chance to make meaningful connections with fellow students during a time when such connections are in short supply. "Having to cook my classmates' recipes brings me into each of their cultures," says Warner. When it came time for him to share his own recipes, Warner chose to share his friend LaToya's Southern Oven Fried Chicken as well as a recipe for Nigerian Chin Chin. "The southern fried chicken recipe comes from Danville, Virginia through my deceased best friend LaToya Tarpley-Hubbard who was murdered in 2009. I keep her legacy alive by cooking her chicken," says Warner. The Chin Chin also had special meaning for him, because of the association it has with his deceased father, who died when Warner was ten. "Being half Nigerian I wanted to shed light on a snack that I fell in love with as a young child and keep my father's memory alive," says Warner.
"The students in the course are energetic, flexible, intelligent, and dedicated," says Professor Abdo. "They are a delight! Each week, they submit a recipe, cooking video, and some cultural information to The Paisano." During the weekly class Zoom meetings, students share ideas for improving each recipe. Earlier in the semester, they learned about the university's versatile cookbook collection and met with an internationally trained chef.
Over the course of the semester, Abdo and her students will compile the recipes and create a cookbook that will be available to all. Heather Riddle, the Writing Program's and Writing Center's technology specialist, will help design the cookbook and prepare it for publication. The book, which focuses on cultural cooking, is titled A Little Taste of Everywhere: Delicious, Nutritious Recipes Made Just for You. "I wish they had had a class like this when I was in undergrad!" says Riddle. "For now, I'm happy to be part of helping bring the look and design of this cookbook together. I can't wait to try some of the recipes!"
The Cook. Eat. Write. Repeat. Cookbook