Honors College Top Scholar Student Aspires to Give Back Through Education
September 9, 2021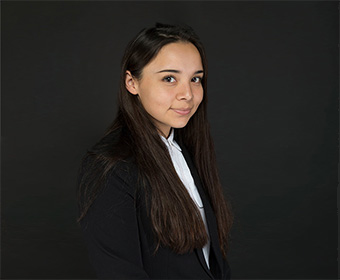 Analisa Gabryella Sulaica is on a mission to empower her community through education. Graduating this fall 2021 with a degree in Mexican American Studies, a concentration in anthropology, and a minor in art history and criticism, the Honors College student seeks to provide the same opportunities and support she received at UTSA for marginalized students, ensuring all students have the resources and pathways they need to succeed.
Coming from the small town of Del Rio, Texas, Sulaica wanted to maintain a connection with her community and culture during her undergraduate studies. She chose UTSA in 2018 due to its deep connection with the San Antonio community. As a Top Scholar, Sulaica received opportunities to become further involved in the UTSA community and support for her professional development.
"I believe that it is important to give back to the communities that shape us into who we are, and Top Scholar gave me the means to do just that," says Sulaica. "I wanted to make sure that I could be more than just a student when I attended college, and being in the Top Scholar program offered the support I needed to excel in and outside of the classroom in this way."
For students looking to apply to the Top Scholar program, Sulaica advises that while grades are important, it's also important to stay true to yourself. She encourages future Top Scholars to use their interests as motivation.
"Trying new things and learning is how we grow, so don't limit yourself to what you think you should be doing," says Sulaica. "Do what feels right; that's how you will find opportunities that are right for you and amplify the unique aspects of yourself."
Different opportunities and experiences are also a hallmark of the Honors College curriculum, where students are introduced to experiences outside their field of study. As a member of the Honors College, Sulaica notes that these experiences, along with the mentorship she received from the college's staff, encouraged her to seek opportunities she may otherwise not have gone after.
One such opportunity was becoming a Mellon Pathways Fellow. Sulaica's fellowship helped her produce her first independent research project, Bad Bunny: A Contemporary Latinx Activist. The project, which was recently published in the UTSA Journal of Undergraduate Research and Scholarly Work, examines how Latinx activists subvert the harmful messages surrounding race, gender and sexuality that stem from Western colonialism and imperialism.
"I am extremely proud of this accomplishment, and I am so grateful to everyone that helped me achieve it. Research has been an amazing experience, and I am excited to explore the topic of Latinx activism and its implications/influences further in the future."
When asked what Creating Bold Futures means to her, Sulaica says we must acknowledge that not all students have the same opportunities and take every action possible to ensure students, regardless of race, gender or income, receive the resources and support necessary to facilitate their success. Sulaica feels UTSA is uniquely positioned to address this.
"Being such a young institution gives UTSA the opportunity to do things differently compared to other, older schools," says Sulaica. "Some of the greatest programs and initiatives have come from the university really listening to the many voices of the Roadrunner community."
Through her extensive service in the San Antonio, Del Rio and UTSA communities, as well as from the support she received from the Honors College and Top Scholar program, Sulaica has decided on her future career plans.
"At this time, education is the best way I can serve my community," says Sulaica. "I want to give back in any way I can, and hopefully my experiences can be of some help to others as they try to find the path that is right for them."
The UTSA Honors College focuses on student development through one of the most experiential honors curricula in the nation. Its non-traditional, project-based approach provides students with unique opportunities outside of their major, empowering them to become leaders, develop as professionals, and reach intellectual achievement beyond coursework. As the only residential college at UTSA, the Honors College community is made up of roughly 1,600 high-achieving, academically driven students from across all majors and disciplines, including UTSA Top Scholars, Terry Scholars, and many of the university's nationally award-winning students. Visit the Honors College to learn more.