Google grant expands Roadrunner career-readiness
January 27, 2022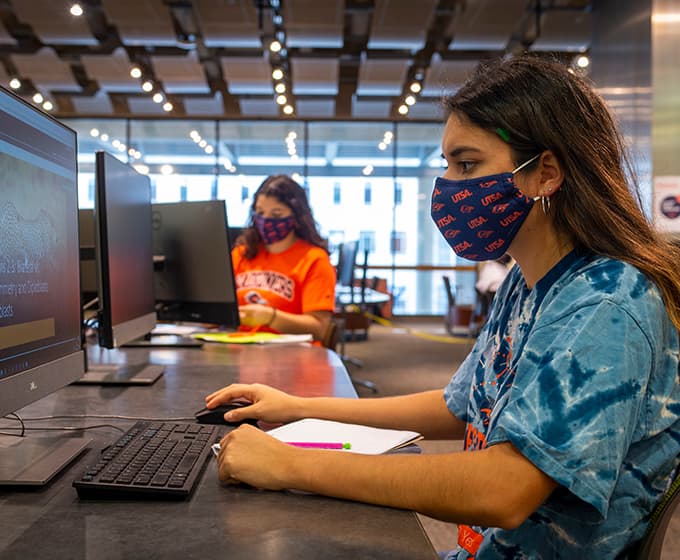 The University of Texas at San Antonio is one of 20 Hispanic Serving Institutions (HSIs) selected to participate in the first cohort of the Grow with Google HSI Career Readiness Program, an initiative aimed at helping Latino students prepare for the workforce through digital skills training and career workshops. Through a $2 million investment and partnership with the Hispanic Association of Colleges and Universities (HACU), the program will train 200,000 Latino students by 2025.
"Every student in our community deserves equal access to job-readiness training and digital skills to help build strong foundations for the future," said Rep. Joaquin Castro. "In partnership with HACU, the expansion of the Google Career Readiness program to Hispanic-Serving Institutions like the University of Texas at San Antonio will connect Latino students to these tools and more. Further ensuring they have the training and support they need to thrive in today's digital economy."
UTSA's University Career Center (UCC) will partner with the UTSA Honors College to pilot the new workforce readiness program beginning this semester. Honors students participating in the semester-long digital skills program will complete five flexible learning paths that focus on building digital skills, exploring career paths, landing a great job, succeeding in the workplace and starting your own business. The evidence-based digital skills curriculum was created by Google to help students master key digital and real-world skills to build their careers and increase their economic potential. The UCC plans to enroll 700-750 Honors College students per semester and eventually open the program to the entire student body.
---
"The Grow with Google HSI Career Readiness program aligns with our university's classroom to career vision."
---
"UTSA is a multicultural discovery enterprise institution with more than 34,000 students. The Grow with Google HSI Career Readiness program aligns with our university's classroom to career vision where students excel in their career discovery, are offered the best career management technology that is accessible to all students, and where career management is incorporated into the curriculum," said Mario Vela, UTSA assistant vice provost of career-engaged learning. As a federally-designated Hispanic Serving Institution since 1994, UTSA is a proud member of the Hispanic Association of Colleges & Universities, the only national association representing existing and emerging HSIs. "Ensuring Hispanic-Serving Institutions have the resources available to help students excel in the workforce is crucial in today's competitive job market," said HACU President and CEO Antonio R. Flores. "We are excited to partner with Google on this innovative initiative and collaborate with HSIs to offer career services for students to graduate with the digital skills and training that can expand their employment prospects."
---
EXPLORE FURTHER
---
In 2018, UTSA launched its Classroom to Career Initiative that focuses on providing more students with experiential learning opportunities during their academic journey at the university. As one of the institution's major academic initiatives, the entire campus community has mobilized to create more hands-on learning opportunities for Roadrunner students. The Honors College has been a campus leader in this effort, offering a primarily experience-based curriculum and programs that provide UTSA students with real-world, career-building opportunities like the Archer Fellowship Program, Legislative Scholars and UTSA Citymester Program. Academic Affairs' Career-Engaged Learning academic support division serves as a university hub for experiential learning-based offerings and collaborates with many areas across the university to create or expand classroom to career opportunities.
In 2020, UTSA earned the Seal of Excelencia, a comprehensive certification recognizing the university's commitment and ability to accelerate Latino student success. Participating in programs like the Grow with Google HSI Career Readiness Program adds momentum to UTSA's journey to become a Hispanic thriving institution, a model Hispanic Serving Institution that provides the highest quality education to advance social mobility and economic opportunities for Latino students and their communities.