UTSA student uses scholarship nomination to propel her plans to improve global policy
February 25, 2022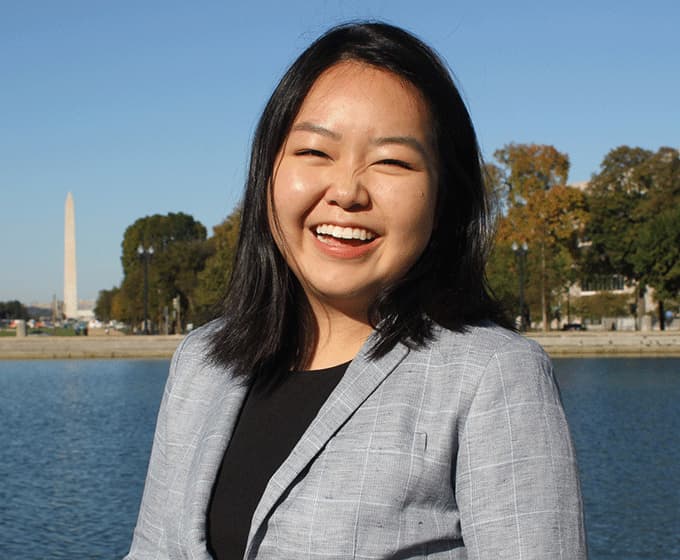 Politics and law/psychology double major Grace Chen is raising the academic profile of UTSA by becoming the first Honors College student to interview for the prestigious Marshall Scholarship in six years. While Chen did not receive the award, being a semifinalist has inspired her to forge her own path on the global public policy landscape.
The scholarship, which was established in 1953 to strengthen academic and diplomatic ties between the United States and the United Kingdom, is awarded annually to approximately 40 students in the U.S. to pursue one to two years of graduate study in the United Kingdom.
Chen plans to move ahead on two programs in the U.K. that she had planned to attend as a Marshall scholar, including a master's of science degree in evidence-based social intervention and policy evaluation at Oxford University, and a second master's of science degree in behavioral science at the London School of Economics and Political Science.
"I aim on learning more about the way people approach decisions and using this knowledge to better design policy."
The goal is to combine her background in politics and psychology, and apply behavioral science to improve public policy.
"I aim on learning more about the way people approach decisions and using this knowledge to better design policy," Chen said.
Chen also hopes to use the lessons learned in the UK to help elected leaders in the U.S. craft meaningful policy that will address disparities in incarcerated populations, and increase access to services among often-overlooked populations.
Born in Germany to Chinese parents who later immigrated to Houston, Chen noted how her personal story has shaped her global outlook.
"I am ethnically Chinese and yet culturally very American, born to an astrophysics professor and pastor father and an international police officer mother who immigrated to the states in late 2000 with me in their arms," she said. "That dual identity is an experience known to all ABCs (American Born Chinese), a kind of cognitive dissonance, where your appearance and your mindset may not necessarily align with the mindset of others, including your own immigrant parents."
When Chen matriculated to UTSA in Fall 2018, she was interested in the pre-professional tracks that many Honors students pursue toward future careers in medicine or law. Prior to enrolling at UTSA, she had spent her summers teaching English and assisting with medical clinics in Fujian, China. At the same time, she was exploring the field of law through two paralegal internships in the Houston area.
Although the UTSA student ultimately opted to pursue a path outside of medicine and law, these experiences were fundamental in learning about human behavior and how to work with people.
"Through the daily processes of communicating and translating for doctors, as well as working to better the health and knowledge of one's health for those that we served, I learned immensely not just about the human body, but about the importance of sustainable practices in service," said Chen.
Chen's path toward a future career in government and public policy became clearer as she was immersed in a variety of Honors College special programs. As a sophomore, Chen participated in Mel Webb's Philosophy and Literature Circle, an Honors College program that takes place at San Antonio's Dominguez State Jail. During the course, Chen learned about the human side of incarceration, reading philosophical works alongside students from UTSA and participants at Dominguez State Jail. She worked closely with Webb to help administer the program, just as the COVID-19 pandemic was emerging in the U.S. in March 2020.     
Even in the midst of a pandemic, Chen's resolve to pursue hands-on learning experiences has been unwavering. During the Fall 2020 semester, she attended the UT System Archer Program—which offers a select number of UT System students to intern at various political offices, government agencies, or non-profit organizations in Washington D.C. The internship, and the classes in public policy that were also part of the program were conducted virtually to mitigate the spread of COVID-19.
In Spring of 2021, Chen traveled from Washington, D.C. to Austin, where she was set to attend the Texas Legislative Scholars Program. While this program was canceled, Chen still pursued and secured an internship with State Representative Todd Hunter, recreating the program on her own and living in Austin for the 87th legislative session. She also completed an internship with Annie's List, a Texas-based political action committee and conducted research as a McNair Scholar.
Sean Kelly, dean of the UTSA Honors College, taught Chen in a first-year honors course, civic ethos. He has followed her success for the past three years.
"We are so proud of Grace being named a semi-finalist for the Marshall Scholarship, given all her work at UTSA, in San Antonio, Austin, Washington D.C., and China," Kelly said. Her work has benefitted so many communities in the US and abroad. Her recognition also shows us that our programs are succeeding. Honors College programming provides students with pathways to explore new opportunities beyond what they previously knew existed. can see how students like Grace are learning to dream big and to exceed their own expectations. That's how we view academic achievement in the Honors College and we are so excited for Grace to share her personal story, her intellectual interests, and her future plans with the Marshall commission."
This article was originally published in UTSA Today. You can access the original article via this 
link