Commitment to research excellence was key in UTSA freshman's decision to be a Roadrunner
September 22, 2022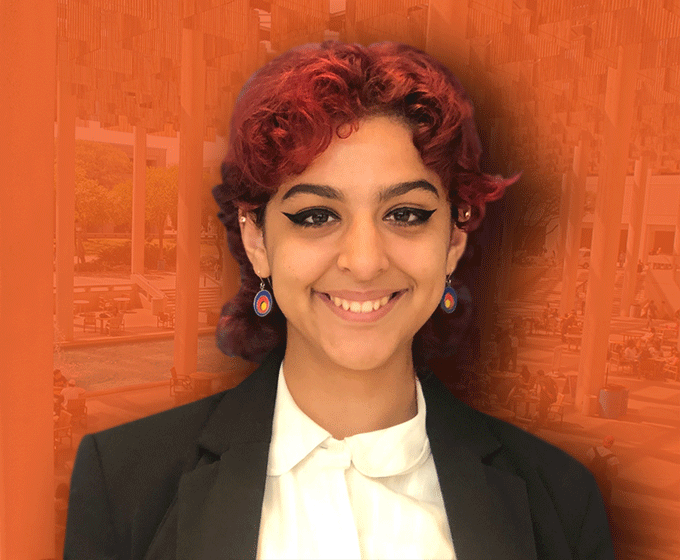 New Braunfels, Texas, resident North Awad says that UTSA's proximity to home was a factor in their college search. The other driving factor for their enrollment was the university's research opportunities, which have grown and expanded tremendously in recent years.
As a research enthusiast, Awad was pleased to hear about UTSA's recent Tier One classification. They feel that UTSA's dedication to scientific exploration is commendable and a key factor that distinguishes the university from other institutions.
---
"The Honors College academic advisors emphasize the importance of enriching your experience with diverse opportunities."
---
With an unparalleled drive for discovery, Awad opted to major in neuroscience at UTSA, a rapidly advancing field that intersects other disciplines such as psychology, artificial intelligence, health and microbiology. Students in this major can expect a multidisciplinary curriculum that includes upper-division classes ranging from neurobiology to abnormal psychology.
Awad has always been academically motivated. As a student at Memorial Early College High School, they served as a writing tutor and assisted their peers with essays, presentations and SAT preparation. In collaboration with their best friend, Awad created the Monster Mash, a fundraising event for the high school's National Honor Society featuring a wide range of activities to build connections and bring students together.
That ambition earned them a place as a UTSA Top Scholar. The program's mission to create a community of driven, talented students and empower students' professional growth and lifelong learning aligned with Awad's goals for developing personally and professionally.
"I knew that my background as a first-generation college student, community service and personal goals helped me stand out as a candidate," they said.
Thanks to the Top Scholar Program, Awad was able to form a supportive network that encouraged them to pursue outside interests, even before school began.
"I won't forget when Dr. Sean Kelly, the dean of the Honors College, said to never skip an opportunity," Awad said. "This piece of advice has stuck with me because it is important to not only grow in your major but in other hobbies and interests. The Honors College academic advisors emphasize the importance of enriching your experience with diverse opportunities. It's not just about achieving good grades but rather creating an impactful experience."
After graduating, Awad hopes to continue their education and conduct research as a neuroscientist. Helping others and solving the mysteries behind the body's most complex organ are at the forefront of their goals, and UTSA is providing the opportunities and resources to help Awad succeed.