Honors College, interest group help UTSA freshman feel at home
September 12, 2022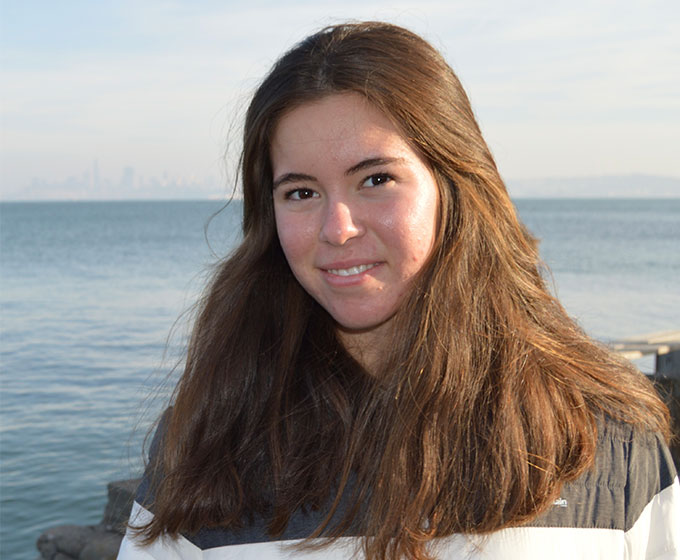 Alba Chocron, a first-year, biomedical engineering student is ready for her new journey as a UTSA Roadrunner.
A 2022 graduate of San Antonio's Clark High School, Chocron wasted no time getting involved on campus—from joining the intramural tennis team to becoming a part of the Engineering Freshman Interest Group (FIG), a program within the Margie and Bill Klesse College of Engineering and Integrated Design.
"When I was applying to UTSA, I received a lot of emails and one was about FIG," Chocron said. "Basically, they are interested in first-year engineering students. They organize study sessions, game nights and several other events where you get to meet people who are also in the engineering program. It's a way to meet and talk to new people."
---
"They offer a lot of resources that I never dreamed of."
---
Engineering FIG is designed around a common interest to help students meet others with similar passions and goals and help them succeed during their first year at UTSA.
This year's cohort of 24 students will take a specific set of classes together, attend special campus events and have a dedicated peer mentor and faculty mentor.
Aside from receiving support from those in Engineering FIG, Chocron also enjoys the opportunities afforded to her as a member of the UTSA Honors College.
Among the 4,600 students that moved onto campus this semester, 350 of them are Honors College students who moved into Guadalupe Hall to begin their  Honors Residential College (HRC) experience. The Honors College is the only college at UTSA that requires its first-year students to live on campus together and offers a housing scholarship of up to $1,500 to each student.
"The Honors College is kind of like a FIG because they organize a lot of events you can go to. We had two days called Compass Days filled with seven hours of activities and you got to meet a lot of people in the College," she said. "I think it really helped me adjust to UTSA because everyone in the Honors College lives in Guadalupe Hall. All these people who we had activities with at the Compass Days, I've seen around the building. It's just one more person you get to meet and talk to."
"You hear people tell you to go talk to others when you're coming to college, and it's actually what you need to do to get into the college spirit," Chocron added.
In addition to the networking opportunities, the Honors College offers several resources like social events, guest lectures, tutoring and job interview assistance. Honors College students can participate in experimental curriculum that allows them access to internships, research and study abroad opportunities. They also have the opportunity to be in smaller classes and receive development opportunities outside the classroom. Some programs available to honors students, include UTSA Citymester, UTSA Legislative Scholars, the National Parks Programs and the Archer Fellowship Program.
"They offer a lot of resources that I never dreamed of," Chocron said.
Not knowing anyone at a new school was one of Chocron's biggest fears when moving onto campus, but being a part of the Engineering FIG and of the Honors College has already helped her feel right at home.
Chocron hopes her studies as a biomedical engineering student will eventually help her accomplish her goal of becoming a pediatrician.
 "I want to be a pediatrician because I like working with kids, and being able to help them in the medical field is a good combination," she said.
And if she chooses not to go that route, Chocron said the biomedical engineering field will still allow her other opportunities to pursue. She's also already thinking about working in one of the Klesse College laboratories one day.
"I've heard professors talk about research assistants, so I think that's something I want to do if there are spots open," Chocron said. "I definitely want to work in a lab or with a professor because it would be very helpful for the future."
When asked what Chocron looks forward to the most these next four years as a Roadrunner, she said, "I am excited about learning new things that will help me grow as a person and adapt to the real world."
A version of this story was published in UTSA Today. You can access this article via this link.