UTSA Physics Major wins Hispanic-Serving Institution Scholarship to study Russian at Middlebury Language School
March 3, 2023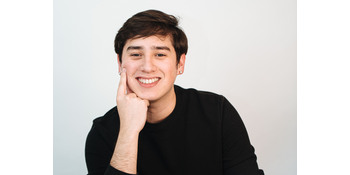 UTSA senior Jesus Facundo has been awarded a full scholarship by Middlebury College to study Russian this summer. He was awarded Middlebury's scholarship for students attending Hispanic Serving Institutions (HSIs), Historical Black Colleges and Universities (HBCUs), or Tribal Colleges. Jesus will receive funding to cover the total fee of the program. Middlebury is one of the most well-known language learning institutions, and has offered language immersion programs for more than 100 years. Students are selected who show high academic achievement and have the nomination of their home institution. Jesus was nominated by the UTSA Russian Program and the Department of Modern Languages and Literatures.
In his application, Jesus related how his upbringing as a Mexican American from immigrant parents fostered an interest in people of diverse backgrounds:
"I grew up in Houston, Texas, but both of my parents are first-generation immigrants from Mexico. My first language was Spanish, and it wasn't until I was around 18 that my accent when speaking English started to fade. There are millions of people who come from a similar situation yet from a totally different cultural and ethnic background living in the United States. Attending a minority-serving institution, I often find myself surrounded by such individuals. This experience has concretized open-mindedness, diplomacy, and tolerance in me, traits that I believe are fundamental to building mutual understanding."
At UTSA, Jesus is a physics major who conducts research in nuclear materials. His research on novel nuclear fuels takes place in the Extreme Environment Materials Lab, headed by Dr. Elizabeth Sooby. Nearing the end of his undergraduate degree, Jesus is preparing to enter a Ph.D. in nuclear engineering with the long-term goal to work for the Department of Energy.
---
"

I grew up in Houston, Texas, but both of my parents are first-generation immigrants from Mexico. My first language was Spanish, and it wasn't until I was around 18 that my accent when speaking English started to fade. There are millions of people who come from a similar situation yet from a totally different cultural and ethnic background living in the United States. Attending a minority-serving institution, I often find myself surrounded by such individuals. This experience has concretized open-mindedness, diplomacy, and tolerance in me, traits that I believe are fundamental to building mutual understanding."
---
"I consider Russian to be a language of nuclear diplomacy. This makes it not only an intense interest to me as an aspiring nuclear engineer, but a necessary skill for a successful career in nuclear non-proliferation. Improving my knowledge of the Russian language is, for me, another part of my growth as a non-proliferation expert."
Prior to applying to Middlebury, Jesus enrolled in Russian language classes at UTSA through the Department of Modern Languages and Literatures. Andrew Chapman, Director of the UTSA Russian program, noted that the modern languages department is excited for Jesus to continue his study of Russian at one of the top language programs in the country:
"We are so glad to see Jesus not only excel in our Russian classes but to represent UTSA at Middlebury. He is a great example of how our STEM and Business students take language classes at UTSA to enhance their professional goals. With proficiency in Russian, Jesus can collaborate with other scientists and policy makers to form closer working relations. We are also grateful that Middlebury extends this opportunity to students of HSIs."
More information on Middlebury's scholarships for students attending Hispanic Serving Institutions: https://www.middlebury.edu/language-schools/funding/fellowships-scholarships/hbcu-his-tribal-colleges